Cooking Demos + Hands-On Instruction
Exclusive Culinary Experiences
Exceptional Accommodations
Making a reservation isn't nearly as satisfying as making an entire meal.
Anyone can make a reservation, but why settle for that when you could make a one-of-a-kind meal from scratch alongside one of the world's top chefs?
You've never been on a cruise like this one.
HANDS-ON INSTRUCTION
You'll learn how to prepare exquisite dishes, step-by-delicious-step, with help from legendary master chefs (fully equipped workstations, chef's hat, and wine included).
EXCLUSIVE CULINARY EXPERIENCES
Go ashore with the chefs to shop for ingredients at quaint local markets, tour private vineyards, and discover restaurants far off the tourist-beaten path.
EXCEPTIONAL ACCOMMODATIONS
You'll enjoy state-of-the-art teaching kitchens, spacious staterooms, beautiful teak verandas with million dollar views, and first-class personalized service.
Cruising with James Beard Award Winning Chef Dean Fearing
October 30, 2023 - November 13, 2023
Get the details
Lima to Buenos Aires – A Cruising with the Chefs Event
December 19, 2021 - January 8, 2022
Get the details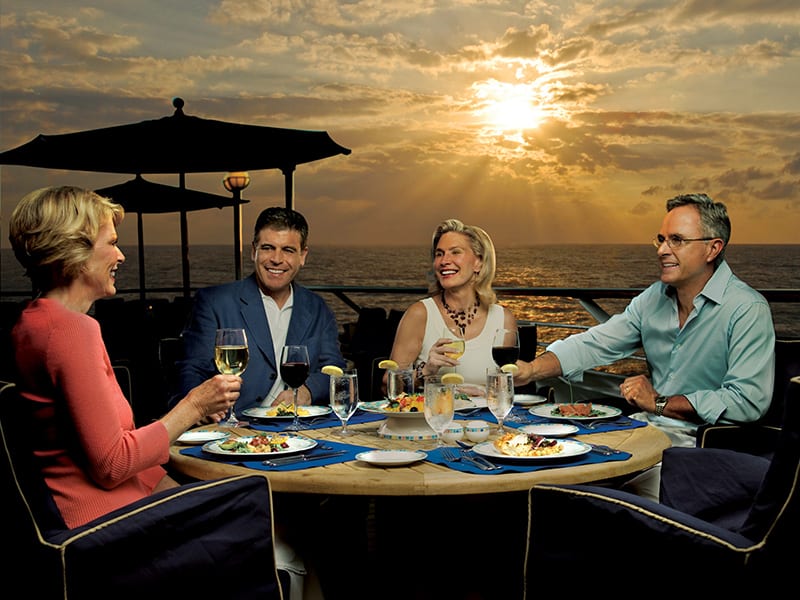 Athens to Barcelona – A Cruising with the Chefs Event
August 9, 2021 - August 19, 2021
Get the details
We'll chat
We get to know you and learn what's important to you and your traveling companions.
Choose your adventure
Relax as our team of travel concierges scour the globe for a short list of vacations that exceed your expectations. We'll create the perfect vacation just for you – and meticulously plan every last detail.
Bon voyage!
Take a trip of a lifetime together! You'll set off to make lasting memories and gain stories to share for a lifetime.
The hardest part for you is deciding where to go first.
There are so many places to explore, but finding a truly unique cruise itinerary on a beautifully appointed ship isn't always easy. That's why we've helped thousands of clients plan the most unforgettable cruises all over the world without lifting a finger. From transportation arrangements to reservations and detailed itineraries, our travel concierges handle every detail so you don't have to.
Adventure is just beyond the horizon. Where will you find yours?