January 5, 2025 – January 15, 2025
Explore Antarctica with Silversea Cruises
The seventh continent is adventure in its purest form
learn about the many polar expeditions that have attempted, and succeeded in conquering the last continent
An elegant adventure to the "bottom" of the world
Antarctica in Style
Few voyages ignite the senses the way Antarctica does. The seventh continent is adventure in its purest form, where thousands of Gentoo penguins hop around, and cape petrels sweep overhead. Discover the continent's thriving and unique wildlife from the comfort of a Zodiac cruise, or for the more adventurous, from a kayaking experience. Historians will be well served here too – learn about the many polar expeditions that have attempted, and succeeded in conquering the last continent.
A true all-inclusive door-to-door experience.
Including private transfers from you home to your local airport and back home at the end of your cruise.
Frst five "solo" bookings in this group with no single-supplement
The first five solo bookings in this group will travel with NO single-supplement.
All suites include the services of a butler and the highest service ratio at sea
Ever had the experience of a butler … well this is your chance … you most likely will want your butler to go home with you!
Suite Upgrades
In select categories, enjoy a  a one-category suite upgrade on Expedition cruises – Our limited-time Suite Upgrades offer applies to a global collection of itineraries departing January 2024 through 2025.
Book by November 30, 2023 with our unmatched Door-to-Door All-Inclusive fares featuring private executive transfers from home, international flights and Business Class upgrades, and more.
Offer Expires November 30, 2023
$1000 shipboard credit per suite ($500 per guest)
Book by November 30, 2025 and receive a a $1,000 shipboard credit per suite ($500 per guest), and a refundable 15% reduced deposit.
Use your Shipboard Credits for spa treatments, optional shore excursions – including curated S.A.L.T. experiences – laundry services, and more, and discover the world's authentic beauty in supreme comfort.
Offer Expires November 30, 2023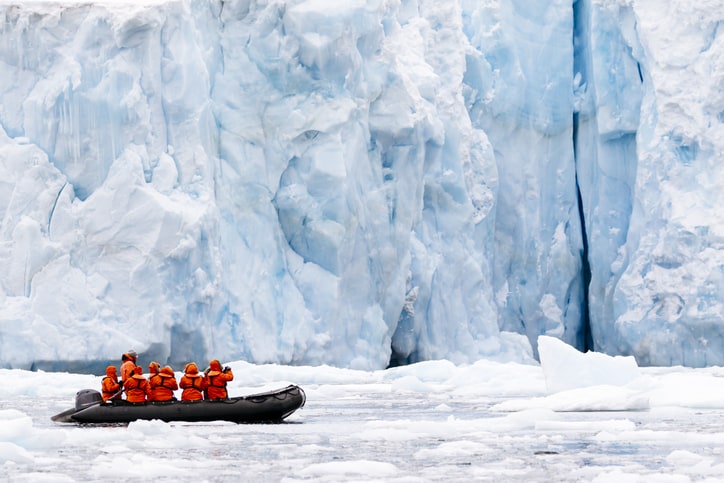 Trip Dates
January 5, 2025 – January 15, 2025
Pricing
Pricing from $17,200 Per Person 
Day 1:Puerto Williams
uerto Williams is a Chilean city located on Navarino Island on the southern shores of the Beagle Channel. It claims to be the "southernmost city in the world", however owing to its small size – 2500 residents approximately – the much larger Argentinean city of Ushuaia, which sits on the northern side of the same channel, also claims that title
Day 2:Drake Passage
Set sail, to slowly drop off the bottom of the map from Cape Horn, and voyage on an expedition down into the icy underworld of Antarctica. Drake Passage is an extraordinary voyage of romantic ocean faring legend, as you aim for Antarctica's icy realm.
Day 3:Drake Passage
On arrival, skyscraper sized icebergs salute you, as you traverse the waters of this continent where snow and ice dwelling creatures like penguins and whales roam undisturbed. Your first sight of this most-unexplored place will most likely be the South Shetland Islands.
Day 4:Antarctica Sound
Few voyages ignite the imagination like a journey down to one of the planet's most remote, extreme and enchanting wilderness, Antarctica. An adventure in its purest form, only a handful of people will ever be lucky enough to experience the majestic beauty of these monochrome landscapes first-hand.
Day 5:Antarctica Peninsula
The Antarctic Peninsula unravels upwards towards South America, reaching out a beckoning finger to the adventurous, who dare to explore this untamed realm
Day 6:Antarctica Peninsula
Stretching up from the heart of the world's southernmost continent, the Antarctic Peninsula lies a mere 620 mile from Tierra del Fuego and, for many, offers a spectacular first taste of the snow-blanketed landscapes and colossal ice sculptures, which make up Earth's least-explored continent.
Day 7:Antarctica Peninsula
Unseen by humans until 1820 – a blink of an eye ago in relative terms – this is an adventure sure to make your hairs stand on end, as you experience the thrill of the truly unknown and extraordinary.
Day 8:South Shetland Islands
Lying close to the northwestern tip of the Antarctic Peninsula, separated by the Bransfield Strait, the South Shetland Islands fall under the jurisdiction of the Antarctic Treaty, suspending claims on their sovereignty.
Day 9:Drake Passage
On your return to Port Williams, walk in the footsteps of some of history's greatest and bravest explorers as you explore famed, snow-covered landmasses like Elephant and Deception Island. If the journey across Drake Passage sounds daunting, don't worry – even in rough seas you're never alone, and will often be accompanied on this spine-tingling adventure by soaring albatrosses and maybe even a protective pod of humpbacks and hourglass dolphins or two.
Day 10:Return to Puerto Williams
Preparing for disembarkation as you arrive back in Puerto Williams
Day 11:Puerto Williams
Depart for your hotel for the night before heading cack to reality tomorrow.

Door-to-door … All-Inclusive

Roundtrip economy air with available upgrade to business class

Butler services in every suite

Nearly one crew member for every guest

Complimentary transportation into town in most ports

Choice of restaurants, diverse cuisine, open-seating dining

Beverages in-suite and throughout the ship, including champagne, select wines and spirits
CLICK HERE for pricing, stateroom selection, deck plan of the ship and port descriptions.
Let's begin your next adventure!